---

They'll Never Stop The Simpsons
By Jouni Paakkinen (jouni@snpp.com) - October 11, 2011

The Simpsons will go on for at least two more seasons. This was confirmed last Friday, after months of tense negotations between 20th Century Fox and the cast of the show.
Fox demanded major budget cuts, as The Simpsons had become too expensive a show to produce. "The network said, either we get a deal where we're set, or we will just announce that we're going off the air," said show runner Al Jean to TV Guide.
The show's producers agreed to take pay cuts, the extent of which is unknown, but the cast didn't want to agree with the terms they were offered. Reportedly the voice actors were asked to take hefty 45% pay cuts in their salaries, estimated to be about $8 million per actor per year. The actors were willing to cut their salaries 30% if they were to receive a small piece of the show's back end profits. Harry Shearer went public last week, saying he was told that "simply no circumstances under which the network would consider allowing me or any of the actors to share in the show's success".
The deadline for the negotations was set to noon on Friday, October 7. Adding to the excitement, Los Angeles Times reported that the cancellation of the show would have allowed News Corp. to sell off-network syndication rights into cable channels. On Thursday night, James L. Brooks tweeted "Tomorrow is a biggie. My stomach hurts."
To Brooks' and the fans' relief, it was finally announced on Friday that the show will go on for at least two more seasons. Terms of the two-year contract were not disclosed. Al Jean described the budget cuts saying "They're all over the budget. We don't like to talk about specific areas or specific people's salaries. But everything involved in the show, from the animation and the post-production to the writing, yes."
But will the show end after 25 seasons and approximately 559 episodes? It won't, if you ask Al Jean. "Believe me, we donít look at this as these will definitely be the last two [seasons]. We just want to keep fighting and go as long as we can," he told Enterntainment Weekly. They'll never stop The Simpsons.
Photo: Al Jean & Matt Groening (CC-BY-SA Gage Skidmore/Flickr)

Welcome Back, No Homers Club
By Eric Wirtanen (e@nohomers.net) - August 28, 2011


Many constants exist in this world we call home. The sun will always rise in the morning, Democrats and Republicans in the United States will hardly ever agree with each other, and (as long as the record-shattering new episodes continue to air) chatting about The Simpsons will always be a popular topic on the Internet. In fact, heated Simpsons debates on the alt.tv.simpsons newsgroup preceded the creation of the World Wide Web itself and were occurring when Facebook's Mark Zuckerberg was playing with Tinkertoys and Legos. Unfortunately, as of late discussion of the show has been without a popular home due to the demise of Simpsons-L and FOX's official forum, as well as the recent focus on general discussion at nohomers.net.
Realizing this, this month we've decided to re-launch the No Homers Club as a dedicated Simpsons message board in order to give the millions of fans like yourself the daily dose of intelligent Simpsons discussion that you deserve. This change-in-direction coincides with the No Homers Club's tenth anniversary on the web. Over the past decade we have had the had the gracious opportunity to interview former and current showrunners including Al Jean, Bill Oakley, and Josh Weinstein, and we hope that the next decade brings more of these interviews and numerous lengthy "Worst episode ever!" threads.
As such, Simpsons fans can rest assured that there are other things they can count on in the world. The Simpsons Archive will always be their gateway to voluminous and fantastic Simpsons content, and the No Homers Club will remain a forum where they can channel their inner-Comic Book Guy and praise & vent about our favorite television program. You can join in on the many discussion threads at nohomers.net or follow all new topics on the NHC's Twitter feed. Of course, if we aren't your cup of tea, there is always the original Simpsons forum: alt.tv.simpsons.


Matt Groening Joins Walk of Fame
By Jouni Paakkinen (jouni@snpp.com) - June 24, 2011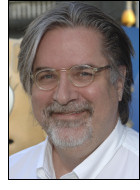 Matt Groening, the creator of The Simpsons and Futurama, is among the 25 new recipients of a star on the Hollywood Walk of Fame in 2012, The Hollywood Chamber of Commerce announced Tuesday. Other television stars to be awarded include The Simpsons' guest voice Adam "Batman" West and Walter Koenig of "Star Trek".
No dates for the ceremonies have been set. The recipients have five years to schedule a ceremony from the time they are given a star.
This is not, however, the first time Groening is in the spotlight on the Walk of Fame. The Simpsons received a star over a decade ago. For more details about the ceremony with Matt Groening and other people behind the show, see our news archive.


Farewell, Simpsons-L
By Jouni Paakkinen (jouni@snpp.com) - November 1, 2010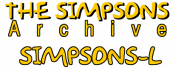 The first global forum for Simpsons fan discussions on the Internet was the Usenet newsgroup alt.tv.simpsons. Rapidly increasing number of Internet users in the 1990s made a.t.s. a very busy and popular place, but also attracted trollers and other users who often spoiled the mood for everyone else. In 1996, The Simpsons Archive launched a moderated mailing list to serve as an alternative for alt.tv.simpsons. The purpose of the mailing list was the same: a place where fans from all over the globe may discuss episodes, share information, news and opinions as well as receive answers to their many questions about The Simpsons.
Simpsons-L became very popular. In less than two years there were over 1,000 subscribers and up to 100+ messages a day. There is also at least one Simpsons-L marriage. A subscriber from San Francisco, California and another from Winnipeg, Canada, met on Simpsons-L mailing list, and eventually got married on January 1, 2000.
The new decade brought web-based forums and the majority of Internet users took their discussions to message boards rather than "old-fashioned" Usenet or mailing lists. Most popular ones among Simpsons fans were "Springfield Message Board" and "No Homers Club". Gradually, alt.tv.simpsons and Simpsons-L became more and more quiet. Additionally, the number of the kind of Simpsons fans who love the show enough to find a place to discuss it has decreased in general. Not to mention the rising popularity of social media over web forums recently.
In light of these trends described above, a decision was made at The Simpsons Archive to terminate the beloved Simpsons-L. The final discussions are going on at the time of writing this, and the service will close permanently during this week.
If you want to keep up on what's going on at snpp.com, please click "like" our Facebook page or follow our Twitter feed. For discussions, we recommend No Homers Club and – of course – alt.tv.simpsons.


Ultimate Episode Guide Is Here
Courtesy HarperCollins Publishers - October 31, 2010


In 2010, the show officially celebrates its 20th anniversary, and every Simpsons fanatic will want a keepsake book to commemorate the event. Comprising a whopping 1,200 pages of full-colour episode recaps, this book will be a hilarious resource for fans around the world.
The most recent Simpsons Episode Guide, "One Step Beyond Forever" (2005) took readers through season 14, leaving fans with a pent-up appetite for the subsequent years. Besides including all-new pages covering seasons 15-20, "Simpsons World" also includes updates of the previously-published content, in most instances doubling the number of pages devoted to each episode. That's more than 600 pages of new and extensively revised material. Even fans who already have the first four volumes will find fun new art, facts, and jokes added to the first 14 seasons' entries.
"Simpsons World" is packaged in a slip case with a book ribbon for place-holding and lush illustrations throughout.

Simpsons World - The Ultimate Episode Guide: Seasons 1-20
By Matt Groening
It Books/Harper (2010)
ISBN 978-0061711282 (USA)
ISBN 978-0007388158 (UK)
List price $150/£95

Complete Thirteenth Season Reviewed
By Wesley Mead (wesley@snpp.com) - October 4, 2010

"The Thirteenth Season" of The Simpsons, featuring all 22 episodes from the series' thirteenth season (2001-2002), is now available on DVD and Blu-ray Disc in the USA, Canada and the UK, mand will be released across other R2 and R4 territories in the coming weeks.
After a confusingly scheduled – and bareboned – Twentieth Season package issued this past January on DVD and Blu-ray, Fox have got back on track with issuing those regularly-scheduled, sequentially-released OFF season sets that we've been used to since 2001's S1 release. A year after season 12 hit disc, the thirteenth season has been released on both DVD (4 discs) and Blu-Ray (3 discs). This review will focus on the standard DVD release, which splits the 22 episodes of the 2001-02 run 5:6:6:5.
The twelve-month-plus wait for this season unfortunately ensures that, once again, we are still no closer to catching up with recently-televised Simpsons episodes, S20's release notwithstanding. It seems churlish to open what is ostensibly a review of the set itself with such a complaint, but when shows ranging from South Park to Everybody Loves Raymond have released multiple season sets per year in a bid to catch up with broadcast, it remains a serious frustration. Here's hoping that by this time next year, we've at least hit season 15 on home video.
Release date complaints aside, what really matters about this set is the quality of the material on offer. And after two of the show's weakest runs – seasons 11 and 12 – this set's collection is something of a turn-up for the books, improving considerably upon their immediate predecessors.
Things aren't perfect. "Gump Roast" is the show's weakest clip show to date; "Tales from the Public Domain" utilises the potentially-amusing historical short story concept ineffectively; and even though R.E.M. are among my favourite bands, they do little to redeem the disappointingly laugh-free "Homer the Moe". Speaking more broadly, the dreaded 'jerkass Homer' is still on display, particularly in the holdovers from season 12 (comprising the first disc of this set); and the frustratingly over-used conceit of the show's first act being only tangentially relevant to the episode's latter two-thirds still jars.
But I'd be lying if I said there weren't a solid dozen-plus episodes in this set that deliver consistent belly-laughs throughout. "Jaws Wired Shut", which sees Homer deal with the aftermath of breaking his jaw, is a late-period classic, delivering some genuinely touching moments alongside a platter of sharply-constructed humour. "Half-Decent Proposal" revisits Artie Ziff without ever feeling like a retread; "The Sweetest Apu" offers a stellar look at Apu's home life. "Little Girl In The Big Ten" is one of the finest Lisa-focused episodes of the past decade, and "She of Little Faith", a Christmas episodes which sees Lisa look to Buddhism for spiritual fulfilment, is similarly strong. "I Am Furious (Yellow)", meanwhile, delivers both A- and B-stories that impress, utilising both the Simpson family, and guest star Stan Lee, effectively. There are plenty of laughs to be had in this collection, for sure.
As is typical by this stage, multitudes of special guest stars feature among the episodes feature here. Among those playing themselves are Pierce Brosnan, R.E.M., Richard Gere, Phish, Stan Lee, Carmen Electra and James Lipton. Additionally, Jane Kaczmarek plays Judge Constance Harm in several episodes, Julia Louis-Dreyfus shows up as Burns' new love, Ben Stiller plays a key role in "Sweets and Sour Marge", Bart falls in love with a Reese Witherspoon-voiced daughter of Rainier Wolfcastle, Dennis Weaver shows up as a past-his-prime cowboy, and Olympia Dukakis is in the role of a hot new retiree who Grampa seeks the affections of.
Consumers in all regions once again have a choice of packaging for this season, albeit only for the standard-def DVD release: there's the "standard" package, or the "Ralph plastic head". The plastic head is not as heavily stylised as seasons six through ten – it's thinner and weaker than those, though it does match that of seasons 11 and 12. But real complaints lie with the internal packaging of the set. On the positive side, it's nice and compact, and there's some marvellous original artwork. But just like that of seasons 11 and 12, in terms of functionality, it's just about the worst packaging I've ever seen for a DVD set, and I've seen a lot of DVD sets. Whatever Fox were going for here, they have failed.
To wit: fold out the digipak-style cardboard booklet that comes inside the DVDs and you may immediately wonder where your discs are: there's no disc trays, nor even any obvious disc holders. Nope, the discs are hidden entirely under the cardboard panels, in the thinnest of slots, making access without either scratching the disc or breaking the cardboard impossible. I could live with discs that are half-visible, like the recent R1 Futurama movie releases. Perhaps slightly more prone to scratching than regular disc holders, but at least you can get to the disc relatively easily. But Fox didn't even afford us that opportunity. The only hint as to where the discs sit are faint semi-circle indentations in the cardboard. It's a genuinely ridiculous concept, and I can't believe they've kept it up for three straight seasons now. I understand the Blu-ray Disc packaging is different, but I don't own it, so cannot comment. There's also a booklet, glossly and well-illustrated as usual, video-game and arcade themed. The digipak art is similarly based on an arcade; while the disc art is 8-bit graphics themed.
The menu system remains the same as it has been since season five – they must be happy with it; I know I am, as right now they are both easily navigable and beautifully designed. The top half of the screen contains a animated screen featuring a variety of Simpson characters revelant to the episodes on that particular disc playing video games and occupying an arcade. The bottom half of the screen lists the episodes along with the eternally useful "Play All" option, and an "Extras" button. Each episode has two small buttons next to it: choosing the first, a triangle similar to a Play button, will play the episode; the other, with a "+" mark, will open a sub-menu, also themed, of which there can be several in a row, featuring scene, language, subtitle, commentary and deleted scenes options. There is a chapter stop after the opening of the show for quick skipping, as well as at several other points throughout each episode.
As usual, the principal bonus is the commentary on every one of the 22 episodes in the set. A fair range of contributors are present, though things seem slightly less varied this season. Showrunner Mike Scully turns up on every episode on disc one (all those he executive produced), while Al Jean shows up on the remaining seventeen episodes, in that same role. Matt Selman is the most frequent participant this time round, on twenty tracks; Matt Groening, series creator, is present on six. Other regular participants include Ian Maxtone-Graham, Joel Cohen, Carolyn Omine, David Silverman, Max Pross, Tom Gammill, Don Payne and Matt Warburton. A smattering of additional crew members pop up for an episode or three, while voice talent is represented by cast members Dan Castellaneta (two episodes), Pamela Hayden (two), and guest stars Delroy Lindo (one), Joe Mantegna (two), James Lipton (two), Stan Lee (one) and Robert Pinsky (one). Each episode has between five and eleven(!) commentators.
The tracks are, as ever, often hilarious and always informative, sharing interesting anecdotes a-plenty along the way – though perhaps the most entertaining sequences are when the crew members notice things they had previously completely forgotten. (My disdain for "Homer the Moe" and unrelated first acts already noted, I was wryly pleased to hear the crew amused by how the central concept of the episode doesn't crop up until midway into the final act!) Mike Scully remains a fine anchor for his episodes; his ability to showrun aside, he knows how to commentate, dammit, and comes across as a general good sport. Al Jean always entertains, too, offering multitudes of tidbits about the three-quarters of the season he oversaw. But genuinely everyone contributes: from the animation staff, who continue to offer unparalleled insight into the ins and outs of putting the show to screen; to the writers and directors, who provide multitudes of interesting stories of how plotlines developed over time. My one qualm, as ever, remains the relative lack of participation from cast members.
Once again, the bonus material is certainly not limited to the commentary tracks. Kicking off the additional bonus features is the "A Token From Matt Groening" on disc 1, a three-minute reel of quick season thirteen clips over which Matt discusses the DVD set at a great pace, in the same vein as the similar featurettes on previous seasons. Deleted scenes are supplied again: 15 minutes of clips from 15 episodes. All are entertaining, and are in the later stages of production – the only thing missing from most is some voice cleanup and sound effects. You can view them inserted into their respective episodes via a branching feature, or as a 15-minute reel (in which the scenes are preceded by 10 seconds or so of animation actually used in the episode, to give the scenes context) with optional commentary by Al Jean on the final disc. The commentary is worth a watch, offering reasons for why each was cut (although as ever, most were chopped due to time restrictions).
There are two in-depth "Animation Showcases" for the episodes "The Parent Rap" and "Sweets and Sour Marge" featuring multi-angle animation comparisons from different stages of the animation process. They're fun enough, but as I said last time, a bit more variety at this stage in the DVD run couldn't hurt. Two intriguing sketch galleries are also present.

A Special Language Feature allows us to view "Treehouse of Horror XII" in different languages; two montages of Ralph quotes and clips, totalling ten minutes, are also present. Three sub-two minutes featurettes offer insight on 3D animation in "Sweets and Sour Marge"; a racing yacht decorated with Bart; and the "Blame It On Lisa" Brazil controversy. A set of commercials and an eight-minute montage of footage from Simpsons video games throughout the years round out the package. It's another solid batch, but as I continue to point out every single review, thirteen seasons down the line we're still yearning for a substantial documentary or featurette. I guess they're holding out for the inevitable Complete Series set somewhen down the line.
The audio-video quality on this set is again excellent – it's continuing to improve with each successive season, and whilst we're still not quite up to the impressive digital quality we'll be expecting from next season onwards, we're getting very close indeed. The full-frame presentation (NTSC in R1, PAL in R2 and R4) is bright, sharp and fully detailed; it's only marred by the limitation of the source material. There is minimal grain and shimmering, and colours are vivid. The DD5.1 remaster is again excellent, and whilst largely front-focused, directional effects sometimes do make their way to the back, and the overall clarity makes for an improved listening experience. Dialogue and music alike come through clearly, if not quite as loud as you might hope. On the R1 set, French and Spanish DD2.0 soundtracks are also included, as are Spanish and English SDH subtitles. On the R2 UK set, there are no alternative audio options, but Dutch, Finnish, Icelandic, Norwegian, Swedish and English SDH subtitles are available. (Obviously, local European releases will feature other language and subtitle options, depending on the native language). I extensively tested the English subtitles, which appeared accurate and true to the spoken word. Unfortunately, the commentaries and extras are still not subtitled on R1, a let-down for fans with hearing impairments; but the UK R2 and AUS R4 release do feature subtitles on the bonus features, including commentaries.
All-in-all, then, this set is one to recommend. It's not a must-buy, thanks to the poor packaging and a few rather weak episodes, but a number of near-classic episodes and the ever-exhaustive, always-entertaining commentaries once again serve to justify a purchase.

The Simpsons - The Complete Thirteenth Season

EPISODES: B - The good definitely outweighs the bad this time round
PRESENTATION: C+ - Shoddy packaging, but sharp AV quality
EXTRAS: B+ - The commentaries are still great, though a documentary wouldn't go amiss
OVERALL: B - Certainly a set to recommend, a step-up from the 11th and 12th seasons

Future news concerning the DVDs, including the forthcoming Season 14 release, and any other compilation discs, will be added to our DVD News page.