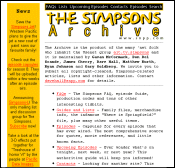 In 1991 the World Wide Web was invented and the first internet browsers were being distributed. Was there ever HTTP without a Simpsons website? Heh, probably not. Hundreds of tributes were established in the first year of the web. Here's an excerpt from The Philadelphia Inquirer, talking about The Simpsons on the net:

In addition to the newsgroup chatter, computer archives of Simpsons information are accumulating in nooks of corporate, university and personal computers, and are available for free to anyone with a modem. "No one organized this," said Gary Goldberg, a Simpsons fan in Bowie, Md., who, with the on-line help of a 23-year-old physicist in London, has set up an extensive archive of Simpsonian quotes, pictures and sound bites on a computer owned by Goldberg in suburban Washington. "No one said, 'You do this, you do that.' Each of us came together and said, 'We want to do something to help.' "

And in July of 1994, Goldberg and the alt.tv.simpsons crew did just that, starting work on a massive fan site they named The Simpsons Archive. Originally hosted by Goldberg at http://www.digimark.net/, the Archive contained the numerous lists and capsules that were spread about on a.t.s. as well as hundreds of movies, sounds, and pictures of The Simpsons. In 1994 it was named one of the top five websites in the world. Today, http://www.simpsonsarchive.com averages 5.5 million hits each month.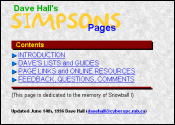 In the mid 90's, over 3,000 Simpsons fan sites were online. Some of the first sites such as Dave Hall's Simpsons Pages are still available to surf through today, while others such as Linda Clapper's Simpsons Page, and Haynes Lee's Simpsons Page only disappeared from the net very recently. The show itself was at its creative peak. And In 1995, Jeanette Foshee created hundreds of desktop icons of Simpsons characters and uploaded them to the internet. She could've never predicted what would happen next.